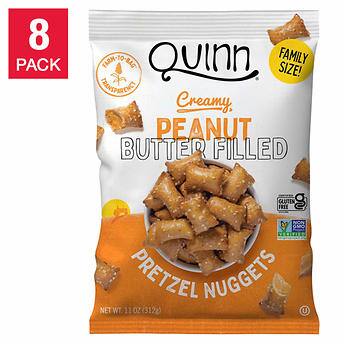 YSnack-Quinn Peanut Butter Filled Pretzel Nuggets- deliciously satisfying snack
$

54.99
---
When I was introduced to it, I could not stop eating it. Get yours and taste what I am talking about! It's pretty snacky! You get 11oz time 8!
Description from the creative makers:
• 8-pack (11 oz bags)
• Gluten-free, Vegan Friendly
• Non-GMO,Project Verified
• Corn, Soy and Dairy Free
These extra crunchy gluten free, pretzel nuggets are filled with creamy, rich peanut butter. A deliciously satisfying snack that is made from the very best real ingredients with nothing artificial ever.
Every Quinn product is backed with a Farm to Bag transparency promise, which traces every ingredient to the source.
FARM-TO-BAG TRANSPARENCY - Farm-to-Bag was created because Quinn believes transparency is the most powerful force for good in food. When you share where every ingredient comes from, you make food differently, you make it better.
REAL INGREDIENTS TASTE BETTER - Quinn is reimagining classic snacks by removing the unnecessary chemicals & artificial ingredients.
• 8-pack (11 oz bags)
• Gluten-free, vegan friendly
• Non-GMO, Project Verified
• Corn Free
• Soy Free
• Dairy Free
• Made with real ingredients everyone will enjoy
Thanks much for adventure-shopping at my health-conscious shop located in California, U.S.
Be blessed extra! -Mr. Yegue Badigue: shop owner, and Certified Massage Therapist.
www.YDesireWhatPlus.com
---