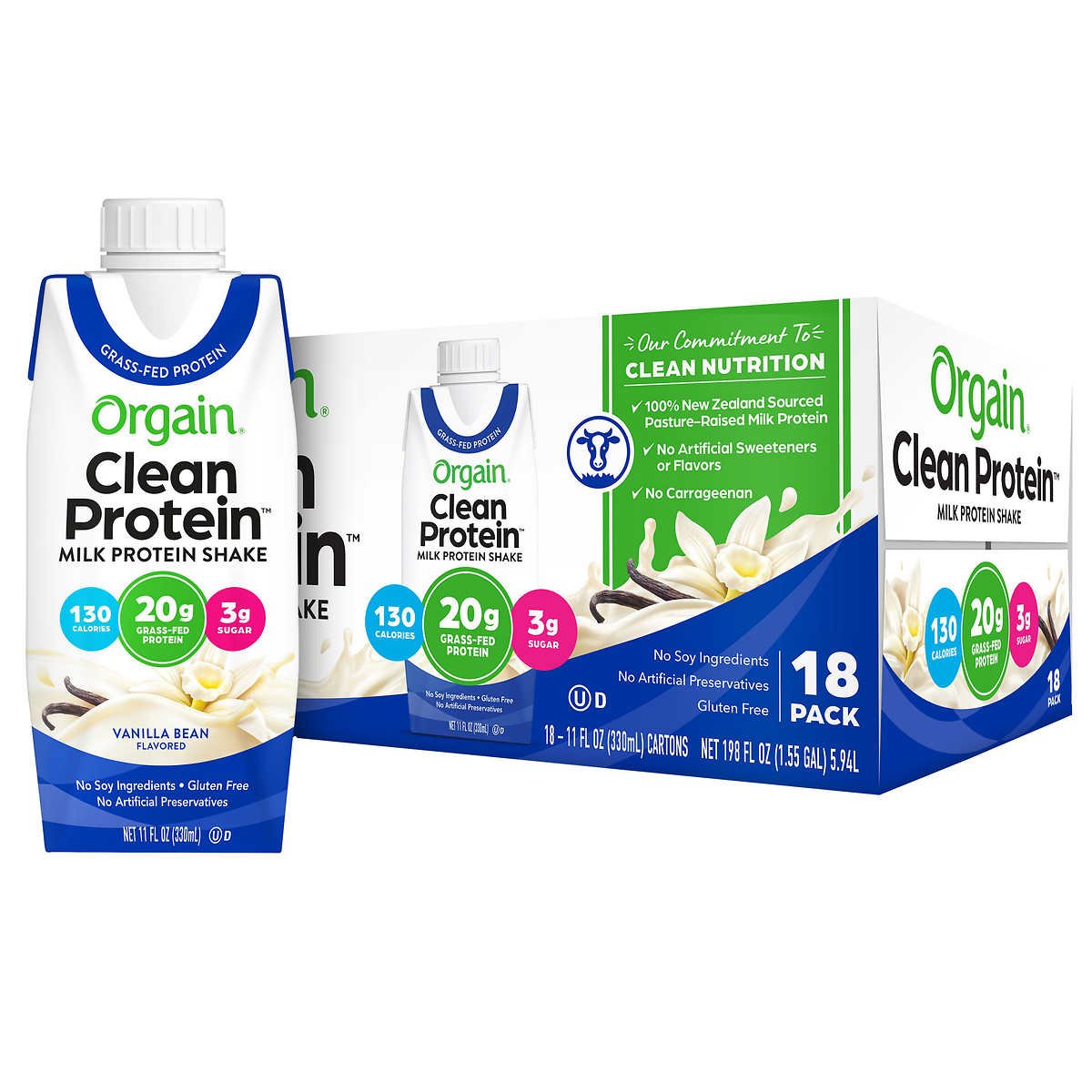 Y Protein Shake-Orgain Clean Grass Fed Protein Shake, Vanilla Bean, yummy! Creamy! Filling!
$

49.49 -

$

49.99
---
My family loves it! I keep it in hands during my Massage Therapy sessions!
From the blenders:
Before or after a workout. Between meetings. During errands. Whenever you need a boost, our protein shakes are the delicious and convenient solution, always ready to go. Chill, shake, and enjoy.
• 20g Grass-fed Protein
• Non-GMO
• Soy & Gluten Free
• No Artificial Sweeteners or Colors
• No Carrageenan
*Kosher
High Protein
11 fl oz. each, 18-count
Additional details from the blenders:
www.Orgain.com
Smooth, delicious, and packed with 20g of clean protein from grass-fed cows, our Clean Protein shakes are a fast favorite. Convenient and ready-to-drink wherever and whenever you need, our whey protein shakes tout a mere 130 calories per serving and low net carbs. Whether you need to fuel up for a workout, enjoy a nutritious snack, or desire a meal replacement that aids in weight loss, these protein shakes cover your every need.
"The power of clean.
Orgain Clean Protein Shakes deliver 20g of grass-fed protein. That means it's a clean, lean, machine that doesn't require a shaker bottle.
Real. Clean. Ingredients
Each shake is made from hand-selected ingredients for maximum nutrition and is gluten-free, and non-GMO. No carageenan or artificial preservatives or flavors allowed.
Protein that's yum-believable.
Goodbye, chalky, gritty protein. Hello creamy smoothness in every sip. Each handheld shake puts the "good" in good, clean nutrition.
Delivering Clean Nutrition"
Thank You much for adventure-shopping at my health-conscious shop!
-Mr. Yegue Badigue: shop owner, and CA Certified Massage Therapist.
www.YDesireWhatPlus.com
---