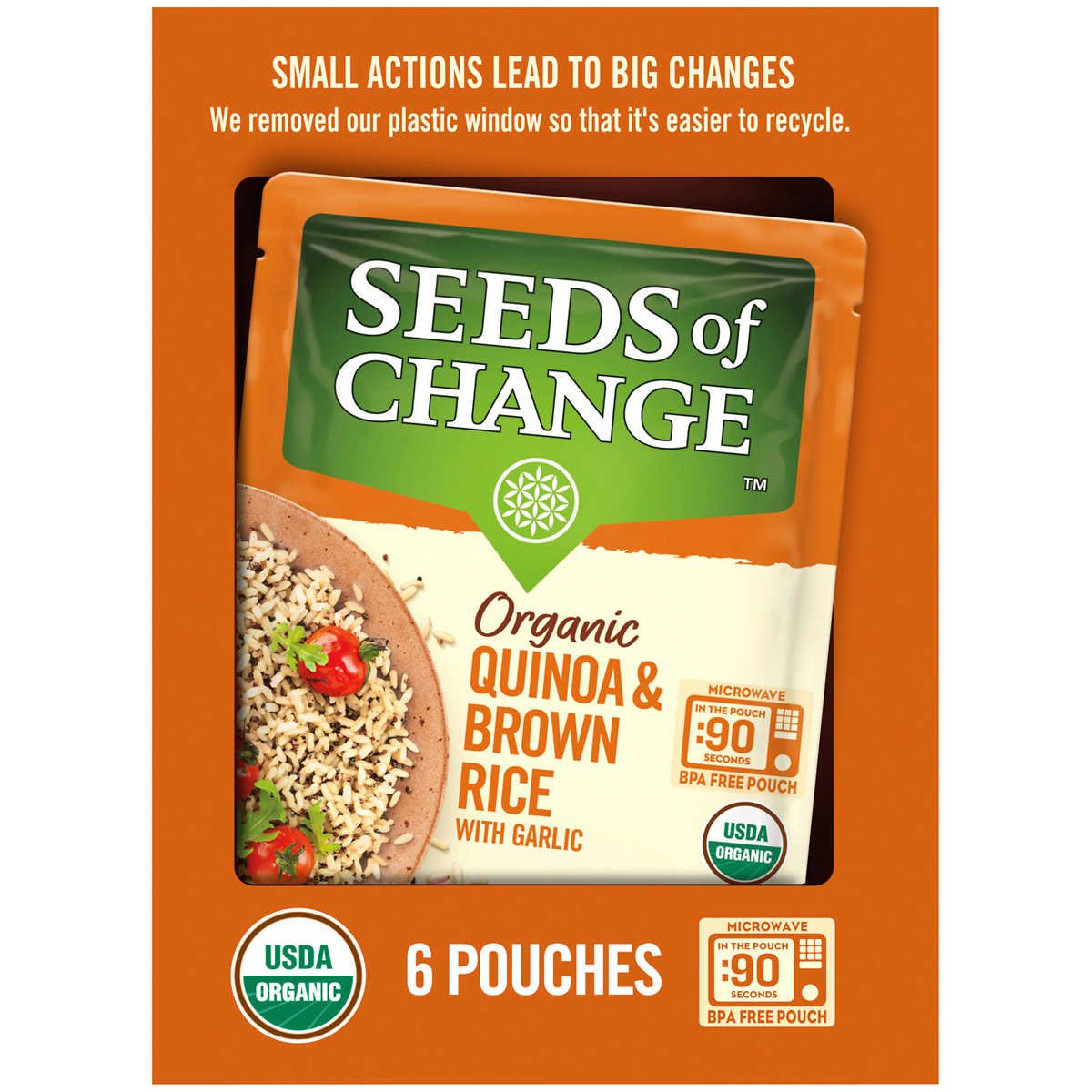 YOrganic Quinoa and Brown Rice – nutritious, naturally delicious
$

19.99
---
My family loves it! It's long-lasting filling, and quite yummy! Take it anywhere that you can heat up.
Description from the blenders:
Seeds of Change
Enjoy a perfect blend of the fluffy and nutritious quinoa super grain and organic brown rice. A quick stir in the skillet or microwave and you'll be good to go with some nourishing whole-grain goodness. This microwavable quinoa and brown rice blend is a delicious way to add an organic touch to all your rice dishes and meals. All SEEDS OF CHANGE® food products are certified-organic and naturally delicious because their ingredients are grown using eco-friendly methods.
Squeeze pouch to separate rice. Tear 2 inches to vent. Heat on HIGH for 90 seconds.
• A delicious blend of quinoa and brown rice
• Made with USDA certified-organic ingredients
• Free of artificial colors, flavors, and preservatives
• 8.5 oz
• 6-count
Whole Grain
INGREDIENTS
Water; Whole Long Grain Brown Rice*; Whole Grain Quinoa*; Sunflower Oil*; Sea Salt; Garlic Powder*; Tapioca Starch*; Dried Garlic*; Onion Powder*; Soy Lecithin*; Parsley*; Spice*
Serving Size
1 Cup (142g)
Calories
240
Calories from Fat
30
Total Fat
3.5g
Saturated Fat
0.5g
Trans Fat
0g
Cholesterol
0mg
Sodium
400mg
Potassium
210mg
Total Carbohydrates
47g
Dietary Fiber
3g
Sugars
1g
Protein
6g
Vitamin A
0%
Vitamin C
0%
Calcium
2%
Iron
8%
Thiamin
10%
Niacin
20%
Folate
15%
Servings per container About 2.
Thank You much for adventure-shopping with me at my health-conscious shop!
-Mr. Yegue Badigue: shop owner, and CA Certified Massage Therapist.
www.YDesireWhatPlus.com
---