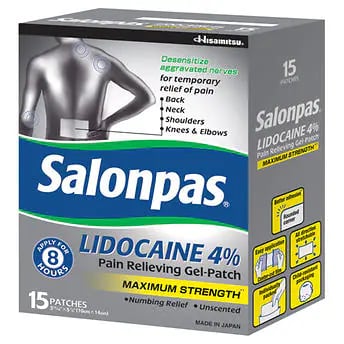 YRelief-Salonpas LIDOCAINE 4% Pain Relieving Gel-Patch For Your Back, Neck, Shoulders, more
$

29.99
---
"Product details have been supplied by the manufacturer and are hosted by a third party."
Features
**For Temporary Relief of Pain For Your Back, Neck, Shoulders, Knees and Elbows
• Unscented, numbing relief to desensitize aggravated nerves
• One patch per pouch means your patch will be fresh each time. This is a 15-pack supply.
• Smart packaging design provides peace of mind for parents and caregivers.
• From the World's No. 1 OTC Topical Analgesics Patch Brand
• Maximum strength available without a prescription
• Soothing hydrogel technology
• Rounded corners help prevent accidental peeling of the patch providing better adhesion2 throughout use.
• A clever mid-line perforation in the backing makes it easy to apply without wrinkles or folding.
• Thin, flexible and stretchable material bends with your movements to remain affixed to your skin.
Thank you much for adventure-shopping at my health-conscious shop located in CA, U.S.
-Mr. Yegue Badigue: shop owner, and Certified Massage Therapist
www.YDesireWhatPlus.com
---