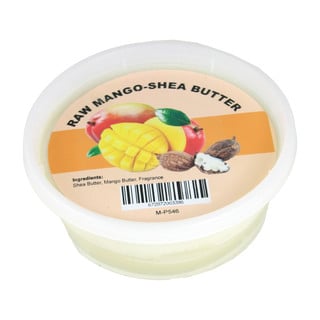 YShea Butter +Raw Mango Skin-nourishing, moisturizing, reduces the appearance of wrinkles!
$

16.99
---
The "Shea" tree is an amazing, magical, blessing treat to have!
From our distributors-item description:
This Raw Mango-Shea Butter combines the numerous benefits of both mango butter and shea butter. *Mango butter is nourishing, moisturizing and a great emollient for your skin. It contains vitamin C that boosts the skin, giving you're a brighter complexion. It contains vitamin A, which helps dramatically increase the youthful appearance of your skin. It reduces the appearance of fine lines and wrinkles. It is a great moisturizer and soothes and heals your skin.
*Shea butter is like a superfood for your skin. It has a concentration vitamins and fatty acids that nourishes your skin. It is a great remedy for dry skin. It helps to reduce skin inflammation and combat acne. It boosts the natural collagen and softens and strengthens skin. It reduces the appearance of wrinkles. All of those benefits come from natural and organic ingredients with no dyes or artificial chemicals. Get softer, smoother, more youthful-looking skin today with Raw Mango-Shea Butter. Made in Ghana.
• Organic: No
• Food grade: No
• Refined or unrefined: Refined
• Cold pressed: No
"Huge fan of the MANGO SHEA. I have very bad eczema from head to toe so I use this on my body and hair and now my little toddler! I am also a natural hair stylist and have been recommending to my clients for years."~ Mikesha in Beltsville, MD
Ingredients: Shea Butter, Mango Butter, Fragrance. 8oz. Can change texture in various temperature-if needed.
Thank You much for adventure-shopping with me!
-Mr. Yegue Badigue: shop owner, and Certified Massage Therapist in CA, U.S.A.
www.YDesireWhatPlus.com
---